Why this MOWER is Awesome
Details
The EGO POWER+ 21" Select Cut Push Mower delivers the power and performance of gas. The Select Cut™ multi-blade cutting system is equipped with two, interchangeable lower blades; the Mulching Blade and the Extended Run Time Blade. The Mulching Blade comes installed on the mower and is ideal for weekly mulching, giving you the mulching quality you would expected from a high-end gas lawn mower. The Extended Runtime Blade provides an optimal balance of cut quality and runtime for all around performance. Both blades can be used interchangeably based on the desired cut. The EGO Upper Blade is used in combination with the lower blade chosen to slice the grass into fine fragments; this greatly enhances cutting performance with all grass types. Experience Power Beyond Belief™ without the noise, fuss and fumes. Compatible with all EGO POWER+ ARC Lithium™ batteries.
Tech Specs
Select Cut™ Multi-Blade System for customizable cutting performance that exceeds gas

Get 45 minutes of run time on a single charge when used with the recommended 56V 5.0 Ah ARC Lithium™ Fuel Gauge battery

High-efficiency brushless motor

7-position cutting height adjustments: 1.5"- 4"

3-in-1 function: mulching, bagging, side discharge

Quick and easy push-button start

21" deck

Bright LED headlights

1-handed height adjustment

Weather resistant construction

Folds for compact storage

Easy-access 2-bushel grass collection bag

Includes Mulching blade, Extended Runtime blade and Upper blade

50 minute charge time when used with the recommended 5.0 Ah ARC Lithium™ battery and Power+ Rapid Charger

Compatible with all EGO 56V ARC Lithium™ batteries.

5-year tool warranty
View The Manual
View the Parts List
Configurations
Power+ 21" Select Cut™ Lawn Mower
Power, Runtime increase, multiple blade choices!!
This mower addresses all of the issues of its predecessors that I could find. The double cutting blades really chews the grass into fine bits. The front bumper is gone which is great. Great improvements to an already great mower
The twin blade select cut system is the biggest change providing a cleaner cut and I did not notice much of a decibel increase if any over the 2100. Changing the battery door so it stays open is a welcome upgrade with the added benefit of the battery being tilted toward the user to show the status. This is especially nice with the new fuel gauge batteries showing you their power level.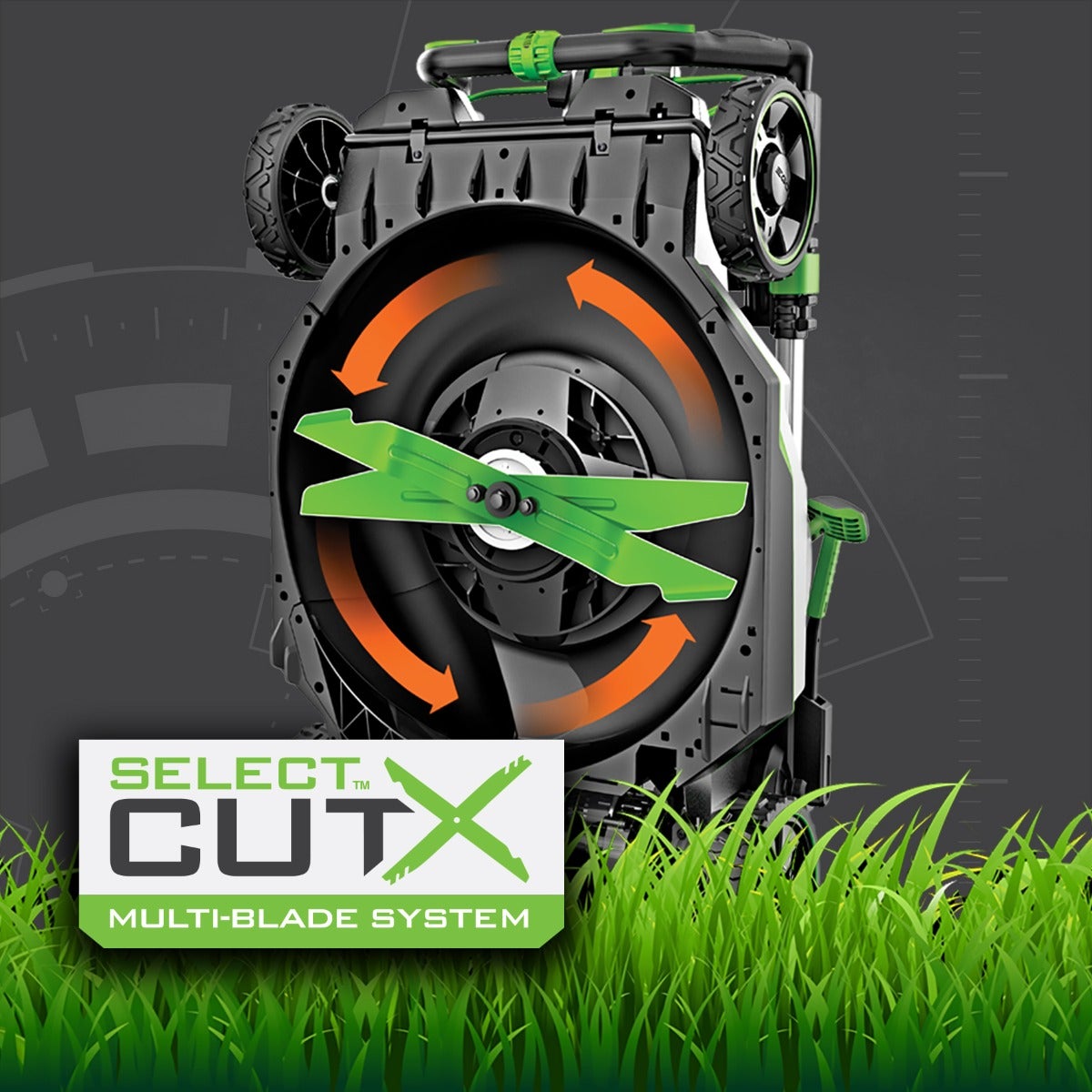 Frequently Asked Questions
Power+ 21" Select Cut™ Lawn Mower