The #1 rated Battery Powered platform
Based on power, performance, durability and value, the EGO platform is rated #1 in the industry by leading consumer publications and experts in the outdoor power industry.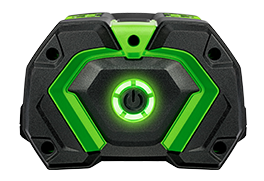 Innovative design gives EGO POWER+ batteries an edge
Our patented technology makes the EGO POWER+ Lithium-Ion battery the most advanced in the industry.
Shock-Resistant Design
EGO's sealed and shock-resistant design protects batteries from drops and the elements—guaranteeing the highest level of performance and durability.
Intelligent Power Management
EGO's intelligent power management monitors and optimizes each individual battery cell to maximize power, performance, and run time.
4P Advantage
EGO is the only high-voltage battery system that uses up to four parallel rows of cells. This innovative "4P" design evenly distributes power across the rows, so our battery can handle even the most challenging conditions – and provide better performance.
Keep-Cool Cell Technology
Each cell of the EGO POWER+ battery is surrounded by revolutionary phase-changing material that pushes heat away. Coupled with our patented ARC Lithium™ design, this keeps the battery from overheating and your equipment running longer at full power.
Better technology delivers power beyond belief
ANY BATTERY POWERS ANY TOOL
With the convenience of universal battery compatibility, you can use any size battery for any tool in the EGO POWER+ lineup.
THE POWER AND PERFORMANCE OF GAS
Featuring the most advanced battery technology, EGO delivers or exceeds the power of gas—all without the noise, fuss, and fumes.
RUNS LONGER, CHARGES FASTER
EGO's patented technology maximizes power and run times. Industry-leading recharge times get you back to work in as little as 25 minutes.